The Kevin Crozier Team has partnered with the Salvation Army to serve as a food donation drop off site for their holiday season food drive. Residents can drop off their non-perishable food items to our office located at 199 E Nelson Ave. in Wasilla, Alaska, Monday through Friday from 9:00 a.m. to 5:00 p.m. Donations for their Thanksgiving meals will be picked up on Friday, Nov. 17th. We will continue to collect food donations throughout November and December for the Salvation Army Holiday Food Drive.

The Salvation Army has listed specific non-perishable food donations they are looking for including: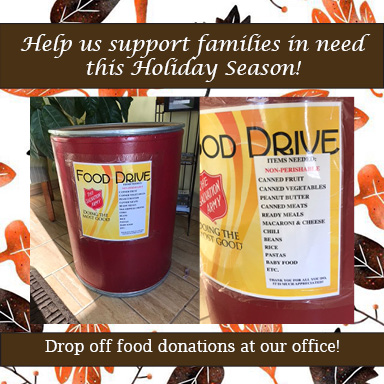 canned fruit
canned vegetables
peanut butter
canned meats
ready meals
macaroni and cheese
chili
beans
rice
pastas
baby food
We appreciate your support of our families in need this holiday season!